Chimichangas are one of our family's favorite Mexican inspired dishes. It is hard to find good Mexican food here in Montana after being spoiled all of our years of living in Arizona. Making them at home is easy and delicious as well as much cheaper!
Chimichangas are basically fried burritos. You can fill it with chicken, beef, or beans. You can easily make this vegetarian by leaving out the meat. Then top it with cheese, sour cream, and guacamole. My technique uses tortillas dipped in butter and then cooked at high heat to get that crispy exterior that is so delicious.
This meal easily comes together in 30 minutes if your chicken is already cooked and less than an hour starting with frozen chicken breasts. I love using my tools to make this dish so easy.
Equipment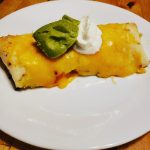 Print Recipe
Baked Salsa Verde Chicken Chimichangas
Delicious and Crispy without Frying
Ingredients
2

cups

salsa verde

4

chicken breasts cooked & shredded

1

cup

sour cream

2

cups

refried beans

1

cup

cheese shredded

10

8″ tortillas

4

tablespoons

butter melted
Optional garnishes
Guacamole

Shredded Cheese

Sour Cream

Green Onions
Instructions
Mix chicken, salsa verde, refried beans and sour cream.

Dip tortilla in melted butter.

Place about 1/4 cup of the chicken mixture in the center of each tortilla.

Fold the tops and bottom of tortilla over filling.

Fold the sides in and place seam side down in a in a casserole dish.

Bake at 450 degrees for about 15 minutes or until golden brown.

Add shredded cheese and put back in oven for 5 minutes or until cheese is melted.

Top with garnishes, if desired.
Shredded Chicken
Place 4 chicken breasts on trivet inside the Instant Pot and add 1 cup of water.

Fresh chicken breasts cook for 8 minutes, if frozen cook for 15 minutes. Natural Pressure Release for 5 minutes before opening steam vent.

Place cooked chicken breast in stand mixer with paddle attachment. Turn it on starting at low. Chicken will be shredded in approximately 30 seconds.
Dinner Menu
Chicken Chimichangas
Refried Beans
Rice
Shredded Lettuce