Zucchini bread is such a delicious and easy treat to make. Even those who hate zucchini in my house love this bread! It is dense and sweet and perfect smeared with butter.
My mom frequently made zucchini bread for us when we were growing up. She always tells stories of how you had to lock your car doors so people wouldn't give you more zucchini every summer! Even when nothing else grows it seems like zucchini is always bountiful.
Zucchini freezes beautifully. I use my food processor to grate up most of the zucchini we were given and then package it in 2 cup portions in quart size freezer bags. Make sure to squash the bag as flat as you can. Close up the zipper at the top except a centimeter or so and then squeeze the rest of the air out. When you thaw out the zucchini for making bread just drain the excess liquid before adding it to the recipe.
I love making two loaves at once so I can freeze one to have another day. This bread is great to take to a potluck or to a friend. It is perfect for breakfast or for an afternoon snack.
It is easy to make mini loaves from this recipe just use mini loaf pans and bake for closer to 20 minutes depending on your pan size. They make lovely gifts for teachers and friends at the holidays.
An important note about this zucchini bread recipe is that even though it is hard to wait, it really is better to eat this the next day. The flavor is so much better and the bread is so moist and delicious. It will be worth the wait, I promise!
Find more breakfast recipes by clicking here: https://investmentcooking.com/category/breakfast/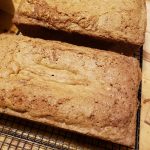 Print Recipe
MamaKay's Zucchini Bread
Delicious and easy quick bread
Ingredients
Dry Ingredients
3

cups

flour

1

tsp

salt

1

tsp

baking powder

1 1/2

tsp

baking soda

1

tbsp

cinnamon

1

tsp

nutmeg
Wet Ingredients
3

eggs

beaten

1

cup

oil

(I prefer avocado oil or melted butter)

1

tbsp

vanilla

2

cups

sugar

2

cups

zucchini

grated
Instructions
Heat oven to 325 degrees.

Grease and Flour or use parchment paper in 2 loaf pans.

Combine all dry ingredients with a whisk

Combine all wet ingredients

Add the wet ingredients to the dry ingredients and stir just until mixed. Do not over mix.

Divide the batter between the loaf pans.

Bake for 1 hour or until toothpick comes out clean when inserted into the center.

Let cool for 15 minutes and then turn out onto a cooling rack.

I know it is hard but really wait until tomorrow to eat this bread. It is so much better the next day!
*This post contains affiliate links. By purchasing through these links you help support this website.