Pancakes are a simple meal made with ingredients you usually have on hand and are the perfect family tradition for Sunday mornings at our house. It used to be that Sunday mornings were crazy hectic trying to get everyone out the door for church. Then we made a change. We started going to second service which starts at 11 am. We were able to have a slow start to our Sunday and it made all of the difference. It truly feels like a day of rest.
Each Sunday we have homemade pancakes, bacon and orange juice for breakfast. Sometimes we add fun ingredients, sometimes they are just plain and sometimes we make different syrups. It is one of the first recipes I teach my kids to make because it comes together so easily and is very forgiving.
This recipe makes enough for 8 people. It is easily halved or doubled depending on how many people you are serving or how hungry they are. (My people eat about 2 pancakes each.)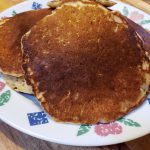 Print Recipe
MamaKay's Pancakes
Simple and Delicious Pancakes (easily scalable)
Ingredients
2

cups

flour

(I like to mix 1 part whole wheat to 3 parts white flour but use whatever I have on hand)

1/2

teaspoon

salt

1

tablespoon

baking powder

1

tablespoon

sugar

1/4

cup

butter

melted

2

cups

buttermilk
Instructions
Mix all the dry ingredients in a large bowl with a whisk

Mix all the wet ingredients in a smaller bowl.

Add the mixed wet ingredients to the the dry ingredients and stir until just mixed. Let this sit for 5 minutes.

Heat griddle. Melt a bit of butter on griddle. Cook 1/4 cup of batter per pancake. Cook until bubbles start to pop and edges are dry and then flip the pancake. Cook until golden on both sides.

Serve with butter and syrup or jam or peanut butter.

Variations:

Blueberry Pancakes: Sprinkle blueberries on batter after you pour it on the griddle.

Banana Pancakes: Smash a ripe banana and add it to the wet ingredients.

Chocolate Chip Pancakes: Sprinkle Mini Chocolate Chips on the batter after you pour it on the griddle. (This is a great addition to the banana pancakes too.)

Apple Pancakes: Add 1 teaspoon ground cinnamon to the dry ingredients then sprinkle chopped apple pieces on batter after you pour it on the griddle.
What is your favorite pancake variation? I hope you enjoy our family's favorite pancake recipe!